---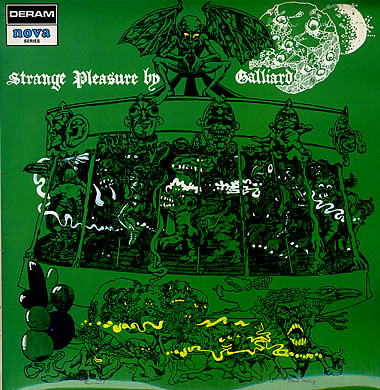 GALLIARD (Birmingham, West Midlands, UK; 1968-1976) - Progressive Rock, Jazz-Rock

Musicians:
- Geoff Brown (vocals, rhythm guitar)
- Richard Pannell (lead guitar, vocals)
- Andy Abbott (bass, vocals)
- Les Podreza (Marshall) (drums, percussion, vocals)
- Dave Caswell (trumpet, flugelhorn)
- John Smith (saxophones, 1968-69)
- Lyle Jenkins (saxophones, 1969-70)
- John Morton (keyboards)
- Harold Beckett (trumpet, flute, horn)
- John Hughes (trombone)
- Tony Roberts (saxophone, flute)
- Tommy Thomas (percussion)
The first signs of a good band were felt when "Craig" were formed by Geoff Brown and Richard Pannell. Members included the drummer Carl Palmer. From there came "Immediate Pleasure" and then "Galliard". Formed in the latter part of 1968 the band grew from a four piece to a six piece to include a trumpet and sax. Full line up were Les Marshall (drums, percussion and vocals), who joined following a lengthy tour with Tim Rose. He replaced John Bonham as Tim's drummer. Richard Pannell (lead guitar and vocals), Andy Abbott (bass guitar and vocals), Geoff Brown (rhythm guitar and lead vocals), Dave Caswell (trumpet, flugelhorne) and John Smith - Replaced by Lyle Jenkins (soprano, alto and tenor saxophones). Following extensive rehearsals and tour dates, Galliard went on to record and release two albums and a sampler album, produced by the now legendery Phil Wainman.
The first album, Strange Pleasure, (Deram) was much admired by the musical press and by the bands many admirers. The second album, New Dawn (Deram) was musically, very impressive, augmenting jazz rock and classical sounds, akin to Blood Sweat and Tears. Much was written in praise of their levels of musicianship, and influential people like John Peel said "I spent a couple of fine evenings with them, remembering some of the great records of the early fifties. Galliard have an LP for mid January release on the Deram-Nova label and it should be pretty good".
The line up changed when Lyle Jenkins replaced John Smith in 1969. Other members were joining the band including John Morton (trombone), Harold Beckett (trumpet, flute), Tony Roberts (saxophone), John Hughes (trombone), Tommy Thomas (percussion). Everyone wanted to be in the band. At one time there were 12 musicians in Galliard. And they did attempt to take this line up on the road too!
Galliard auditioned Wizard's, Nick Pentelow to make it 13. Unfortunately he wasn't good enough on the sax for Galliard's high standards. Strange that! Sorry Nick if you are out there somewhere!
They toured the UK, Germany, Belgium, Sweden, Africa, France and managed to acquire a good following throughout Europe. This is now reflected in the demand for their albums as prices have rocketed to almost $400 for genuine vinyl copies.
In the early part of 1970, band members went on to other projects. The main players were poached by Ashton Gardner and Dyke and Lyle Jenkins and Dave Caswell left Galliard. As it happens, both Caswell and Jenkins went on to join Keef Hartley, Aynsley Dunbar, John Miles and many other rock superstars of that era. So, in a way, Galliard were well respected for producing such good Jazz / Progressive Rock that other industry professionals wanted the same brass sound that was produced by Galliard.
Following the departure of key members, Galliard continued as a four piece. Touring Europe and the UK in their own right as Galliard and also backing American vocal artists. Eventually the drummer Les Marshall left the band whilst on tour in France, disillusioned with the industry. Soon after that, Richard Pannell also parted company with the band to become electronics engineer for Electric Light Orchestra.
The two remaining members of Galliard, Geoff Brown, and Andy Abbott formed Muscles. Muscles became a Jazz Funk band incorporating many line up changes along the way. They finally broke up for good in 1978.
Andy Abbott now lives in France, Geoff Brown is Chief Executive of a software company in Los Angeles, Les Marshall worked for the BBC till 1993 and is now retired, and Richard Pannell works for Computer Services at Birmingham University. According to Dave Caswell's daughter Dawn, "he is currently living in Poole, Dorset, retired after many years of session work, and Lyle Jenkins is keeping well and teaching in Essex". Unfortunately, there is no present info concerning John Smith or John Morton.
(Many thanks to Dawn Caswell for the info.)

A jazzy progressive band with lots of brass and good vocals. First album from 1969. alliard set out as an extremely eclectic band on their debut LP, "Strange Pleasure". They juxtapose a woodwind/horn section slyly with rural compositions, creating a pastoral, even medieval atmosphere, starkly contrasting to nervously urban passages, although they borrow from Art Nova's "Wrapped Her In Ribbons" and give the credits to Geoff Brown. An interesting effort. The first album has some decidedly medieval atmospherics. Fans of Vertigo styled progressive rock should check these out pronto....Originally on Deram.
side 1
1- Skillet (3:44)
2- A Modern Day Fairy Tale (3:15)
3- Pastorale (2:29)
4- I Wrapped Her In Ribbons (3:51)
5- Children of the Sun (3:45)
Side 2
1- Got To Make It (4:00)
2- Frog Galliard (3:22)
3- Blood (3:47)
4- Here The Colours (3:47)
5- I Wanna Be Back Home (4:49)
Andrew Abbott / bass
Geoff Brown / vocals
Dave Caswell / woodwind
Richard Pannell / guitar
Leslie Podraza / drums
John Smith / woodwind
https://www.sendspace.com/file/fam344