---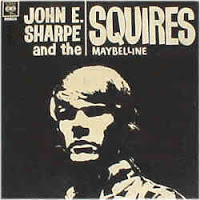 Unfortunately I haven't been able to find a great deal of information on namesake John E. Sharpe and company. Sharpe and bassist Les Goode had previously been in the Johannesburg-based The Deans. Inspired by The Beatles and The Stones in 1963 the two formed John E. Sharpe and the Squires. A popular draw on the city's club scene, in 1965 they were signed to CBS South Africa. Over the next two years they released a series four singles:
- 1965's 'Stop Your Sobbing' b/w 'High Heel Sneakers' (CBS catalog number SSC 545)

- 1965's 'I'll Explain' b/w 'Yours for the Picking' (CBS catalog number SSC-587

- 1966's 'I Am a Rock' b/w 'Like a Rolling Stone' (CBS catalog number SSC-650)
- 1966's 'Monkey Shine' b/w 'Take It Easy' (CBS catalog number SSC-698)
Their sole LP, 1966's "Maybelline" offers up a sterling set of pop and raging garage rockers. All hyperbole aside, musically the album rivals anything put out by their better known US and UK contemporaries. Sharpe has one of those snotty voices that's perfect for the band's commercial moves which include one of the earliest Paul Simon covers I'm aware of ('I Am a Rock'). Also be sure to check out their weird pseudo-polka cover of Chuck Berry's title track. His voice is even better on tougher garage numbers like the catchy 'Monkey Shine' and their blazing cover of Bo Diddley's 'I'm a Man'.

Style: Rithm and Blues / Beat
Country: South Africa
Format: mp3 / 320 kbps
Size: 61,9 Mb


1. Monkey Shine 2:25
2. Whats Your Name 2:13
3. Maybeline 2:36
4. LSD 2:55
5. I'm a Man 3:58
6. Walking the Dog 2:19
7. She's Fine , She's Fine 4:19
8. Bo Diddley 3:59
9. I Gave my Love a Diamond 2:13