---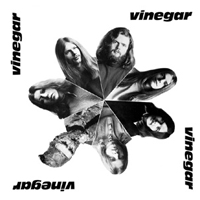 Vinegar was a kraut rock music band that managed to produce only one album and made only 1000 LP copies οf it. They recorded their self titled album January 9th1971 and their music is a bridge between Amon dull II and early Pink floyd.
Finally, the group broke up the same year that their album was released. More info about them here http://www.vinegar-music.de/
Vinegar belongs to the dark chapter of krautrock, next to esoteric stoned rock bands as Paternoster, Sand, Ainigma, Temple...This self title album sounds amteurish but we can find something incredible in the way the musicians want to project rock 'n roll into a heavy- psych-spaced out trip...and it works perfectly despite a certain dose of indulgence in the performance.The general atmosphere is seriously melancholic, desperate, moody and I love it when it's mixed with and intense acid bluesy rock. Missi Solis is a fantastic, beatific rockin' ballad with sad harmonies, lugubrious heavy guitars sequences, intimate organs and acoustic-folk mystery. A very seductive acid / semi improvisational piece. Saw Mills is a strange druggy excentricity with horrible female vocals,fuzzy guitar tones...The second part of the composition is much better with its freaky-energic-kraut-rocking dementia, punctuated by various excellent / crazy instrumental solos. Der Kaiser starts with a calmer acoustic introduction for a violin / guitar duet then it goes on an efficiant, groovy / heavy rock trip (with the silly addition of absolutely painful, misplaced vocals). Fleisch represents the most amazing part of the album with the introduction theme. This composition delivers a haunted / ritual / creepy atmosphere directed by fuzz rockin guitar, pre-gothic keyboards , spectral melancholic voices. A funereal krautrock hymn with a wonderfully spacey vibe. Recommended for krautrock lovers and those who want to take risks.

Wolfgang Grahn (drums)
Bernhard Liesegang (bass, vocals)
Jochen Biemann (guitar)
Dagmar Dormagen (vocals, flute)
Rolf Zwirner (guitar, violin)
Ralf Modrow (organ, vocals)
Tracklist
1 Missi Solis 12:15
2 Sawmill - Teil I 5:22
3 Sawmill - Teil II 5:05
4 Der Kaiser auf der Erbse 7:04
5 Fleisch 7:04
Vinegar 1971.rar (68,14 MB)
https://mega.co.nz/#!ANRjAJpI!yy7gJkOlttzHO8JmWriOksHgDDgzhhKF4i2Z63jqt6E