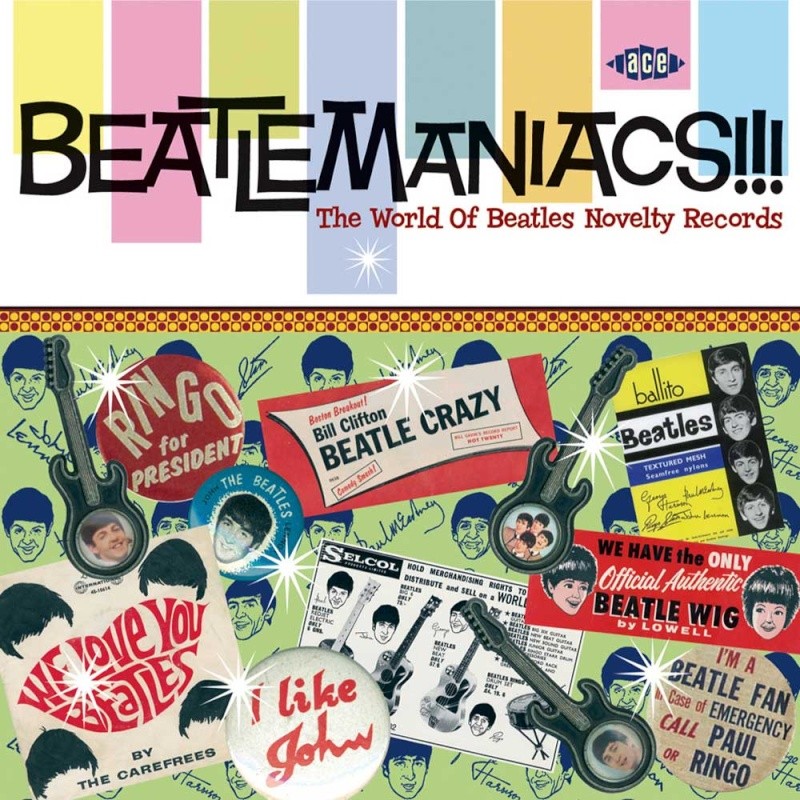 By the end of 1963, the Beatles had probably gone as far as they never dared to dream, with a membership never seen in the UK.
When America waved them at the dawn of 1964, they were ready and prepared to embrace fame and stardom.
In the US, five million flyers and windscreen stickers that proclaimed "The Beatles are coming!" To the Capitol logo adorned with a Beatle wig, were pasted everywhere they could be seen.
This is an album that reminds us of the folly of the "merchandising" of those years. The recording industry busied up and everything was explored, the haircuts, photos and clothing ... Even before the Beatles conquered America, a growing inventory items related to them as guitars, drums, medallions, buttons, belts , badges, covers, t-shirts, trays, bakery and everything else imaginable ... it was flooding the market


On this album we find 24 of the best issues related to the Beatles.
We point out that Harry Nilsson presents a very imaginative track, "You Can not Do That," a single he recorded in 1967, Murray Kellum with I Dreamed I Was a Beatle with a whimsical and dreamy lyrics, The Carefrees with "We Love You Beatles" trying to create the sound and atmosphere of Beatlemania or The Twiliters - My Beatle Haircut, style "doo wop" where a black addresses the haircut to the Beatle in the name of fashion, to the dismay of friends and relatives.
Finally, an interesting compilation collected numerous and rare 45's which shows the influence, the euphoria and the impact the Beatles had a bit everywhere.
1. John, Paul, George and Ringo - The Bulldogs (1964)
2. I'll Let You Hold My Hand - The Bootles (1964)
3. Like Ringo - Dick Lord (1964)
4. We Love The Beatles (Beatlemania) - The Vernons Girls (1963)
5. Beatle Crazy - Bill Clifton (1963)
6. A Beatle I Want To Be - Sonny Curtis (1964)
7. The Beatles Are In Town - The Fondettes (1964)
8. My Beatle Haircut - The Twiliters (1964)
9. A Letter To The Beatles - The Four Preps (1964)
10. You Can't Do That - Nilsson (1967)
11. Please Please Me (Take 1) - Link Wray and The Raymen (2002)
12. Only Seventeen - The Beattle-Ettes (1964)
13. John, You Went Too Far This Time - Rainbo (1968)
14. I Dreamed I Was A Beatle - Murray Kellum (1964)
15. The Beatle Bounce - Bobby Comstock and The Counts (1964)
16. What's Wrong With Ringo? - The Bon Bons (1964)
17. Saint Paul - Terry Knight (1969)
18. Beatles, Please Come Back - Gigi Parker and The Lonelies (1964)
19. Stamp Out The Beatles - The Hi-Riders (1964)
20. Beatlemania - Donnie Rae and The Defiants (1964)
21. We Love You Beatles - The Carefrees (1964)
22. Beatle Fever - Bret and Terry (1964)
23. I Want To Be A Beatle - Bobby Wilding (1964)
24. The Ballad Of Paul - The Mystery Tour (1969)