---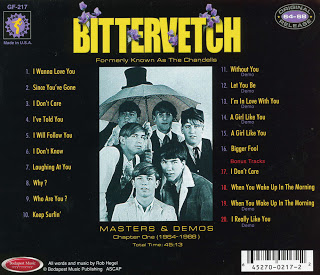 Artist : Bittervetch
Album : Masters & Demos: Chapter One (1964-68)
Genre : Rock
Year : 1964-1968
Tracks : 20
Playtime : 00:45:14
Size : 82,92 MB
Codec : MPEG 1 Layer III / Lame 3.96 / 256 kbps
Bittervetch, a group formed in 1963 in Centerville / Ohio, were previously known as "The Chandells". They separated in 1968.
The set was made up of young people at the University of Centerville, outside Dayton. Originally called Chandells and already with its new name "Bittervetch" had been hired to play at dance halls in Washington Court House. The group included Rob Hegel (keys), Mike Reed (drums), Craig Carlson (guitar), Tim Daum (guitar), Dale Graham (voice), and Geoff Hearsum (bass). Also played at the Cavern Club in Dayton and dances for teenagers nearby.
At the beginning of the band's career, they were dressed in plaid jackets, black pants and thin black ties, but were later changing his attire.
In winter 1964 the group recorded several songs that Hegel that date the'd written. One of his first compositions was "I Wanna Love You".
In 1966, they recorded a 45 rpm for Mega-City that featured two originals written by Rob Hegel. Both sides were great rock songs melodic garage with British influences undoubtedly the Beatles.
On 23 July 1966 the Bittervetch presented themselves at their last concert together with the McCoys of Dayton, in Forest Park Arena.
Rob Hegel continued to compose, and reached the tops of charts in 1980 with their song "Tommy, Judy and Me", an LP of RCA. It is responsible for other successful themes as the songs "Just as I Am" (Air Supply) and "Do It For Our Country (Grease 2) and" Sinner Man "(Sarah Dash).
Hegel currently resides in New York.
By the way and for those wanting to learn more name, Bittervetch is a flower that grows in the desert.
Training (Chandells / Bittervetch):
Craig Carlson - Rhythm Guitar
Rob Hegel - Voice / Keys
Dale Graham - Voice
Geoff Hearsum - Low
Mike Reed - Battery
Tim Daum - Lead guitar
Tracks
1 I Wanna Love You
2 Since You're Gone
3 I Do not Care
4 I've Told You
5 I Will Follow You
6 I Do not Know
7 Laughing at You
8 Why?
9 Who Are You?
10 Keep Surfin '
11 Without You (demo)
12 Let You Be (demo)
13 I'm in Love With You (demo)
14 Girl Like You (demo)
15 Girl Like You
16 Bigger Fool
17 I Do not Care (bonus)
18 When You Wake Up in the Morning (bonus)
19 When You Wake Up in the Morning (demo / bonus)
20 I Really Like You (demo / bonus)