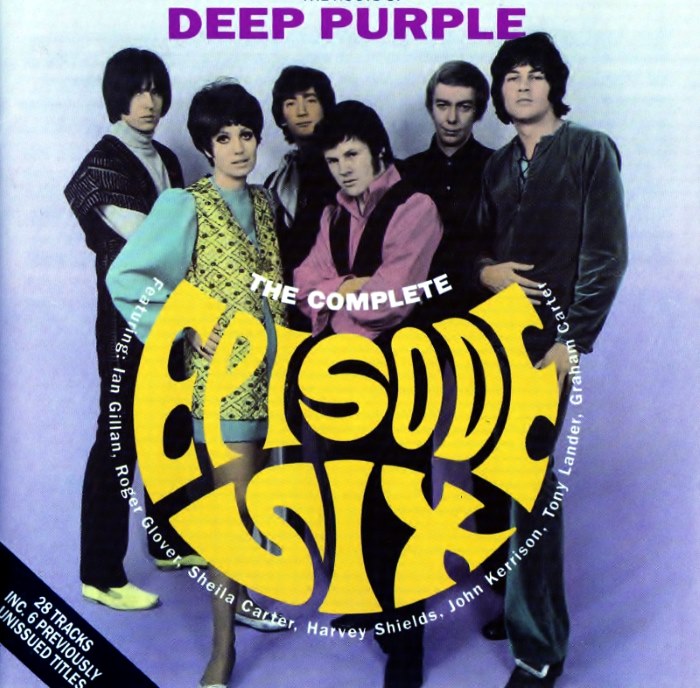 Artist :
Episode
Six
Album : Complete
Episode
Six: The Roots Of Deep Purple
Genre : Psychedelic Garage Blues Popsike
Year : 1991
Tracks : 28
Playtime : 01:18:16
Size : 181,77 MB
Codec : MPEG 1 Layer III / Lame 3.98 / 320 kbps
Best known as Ian & Roger's band before Deep Purple, but at various times they also counted amongst their ranks John Gustafson from The Merseybeats and The Spencer Davis Group, John Kerrison from Johnny Kidd & The Pirates, and Mick Underwood from Quartermass and Strapps. Needless to say: these kids were no slouches, even if they never really became good earners for their record labels. They released a steady string of 45s over four years, playing relentlessly across Europe for TV & radio shows, summer tours, the club circuit, opening acts and more, but never managed to put out a full-length album. Luckily though, between their dozen or so 45s and loads of unofficial tapes, we're blessed with more posthumous material than they ever could've released in their own time. There is a fair amount of overlap between a couple of the compilations, but each has some exclusive material the others don't include.
001. My Babe (Previously Unissued) (02:54)
002. Put Yourself In My Place (02:32)
003. That's All I Want (02:33)
004. I Hear Trumpets Blow (02:31)
005. True Love Is Funny That Way (02:33)
006. Here There And Everywhere (02:12)
007. Mighty Morris Ten (02:24)
008. I Will Warm Your Heart (02:54)
009. Incense (02:44)
010. Love Hate Revenge (02:56)
011. Baby Baby Baby (02:54)
012. Morning Dew (02:58)
013. Sunshine Girl (02:54)
014. I Won't Hurt You (02:33)
015. U.F.O. (02:51)
016. I Can See Through You (03:26)
017. When I Fall In Love (01:58)
018. The Way You Look Tonight (Previously Unissued) (02:21)
019. My Little Red Book (Previously Unissued) (02:31)
020. Plastic Love (1968) (Previously Unissued) (02:31)
021. Time And Motion Man (1968) (Previously Unissued) (02:37)
022. Only Lonely People (1968) (Previously Unissued) (03:18)
023. Little One (02:45)
024. Wide Smiles (01:51)
025. Lucky Sunday (03:45)
026. Mr. Universe (04:20)
027. Mozart Vs The Rest (03:02)
028. Jack D'Or (03:16)
http://global-files.net/x2cqqb