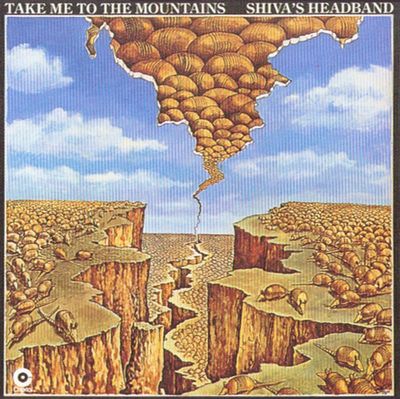 Founded in July 1967 by classically-trained violinist Spencer Perskin, Shiva's Headband have proved to be one of Texas' most durable outfits. Earlier, in 1966, Perskin had spent some time in San Francisco where he had briefly played in a band which included folkie Penny Nichols. He returned to Austin to form Shiva's Headband much influenced by his experiences in San Francisco. Their debut 45 sold well locally and is now a collectors' item. Their follow-up attracted wider attention and that year they relocated to San Francisco and signed for Capitol. They hated San Francisco but remained there to record Take Me To The Mountains, a fine LP which included new versions of their first two 45s. Perskin's violin is prominent throughout the first LP, particularly on the beautiful Song For Peace and standout track Kaleidoscoptic. During their spell in California they played a few gigs at the Avalon. They were also the resident band at the New Orleans House in Berkeley for a while. It was during this time that Spencer Perskin played on Mother Earth's debut album Living With The Animals and also turned down the opportunity of joining the band. Shawn Siegel had similarly refused a spot in The Thingies prior to joining Shiva's Headband in 1968.
Having made little money from their Capitol deal, the band returned to Texas. As only 1,000 copies of their second LP Coming To A Head were pressed on the small Armadillo label, it has become a rare collectors' item. Different versions of two of the album's tracks, Country Boy/Such A Joy were issued as a 45 in a picture sleeve. They spent a while in Las Vegas in a vain attempt to set up a string of music clubs before returning to Texas to issue a 45 Don't Blame Me/Extension, which appeared in another Jim Franklin picture sleeve. Sadly, this appears to have concluded their long relationship with Franklin, who provided the band with their distinctive armadillo imagery.
In 1978 the band issued Psychedelic Yesterday, by far their hardest-rocking album. This is the only Shiva's Headband album with up-front electric guitar, and it also finds the band in rare form vocally. This album has also become very difficult to locate in recent years.
Their 1984 album In The Primo Of Life saw the band moving into jazzy and even reggae territory. This album garnered them considerable local accolades and in 1986 they were choses "Band Of The Year" in a kllocal magazine poll. The band continue to perform to this day. ~ (Vernon Joynson/Clark Faville)
01. My Baby 3:30
02. Take Me To The Mountains 3:34
03. Homesick Armadillo Blues 2:38
04. Ripple 3:56
05. Song For Peace 4:31
06. Ebeneezer 2:55
07. North Austin Strut 3:02
08. Come With Me 5:05
09. Good Time 2:59
10. Kaleidoscoptic 3:31
KENNY PARKER - bs, gtr, vcls
SPENCER PERSKIN - violin, gtr, hrmnca, recorder, vcls
SUSAN PERSKIN - perc, keyb'ds, vcls
SHAWN SIEGEL - keyb'ds, vcls
RICHARD FINNEL - drms
ROBERT GLADWIN - gtr, bs