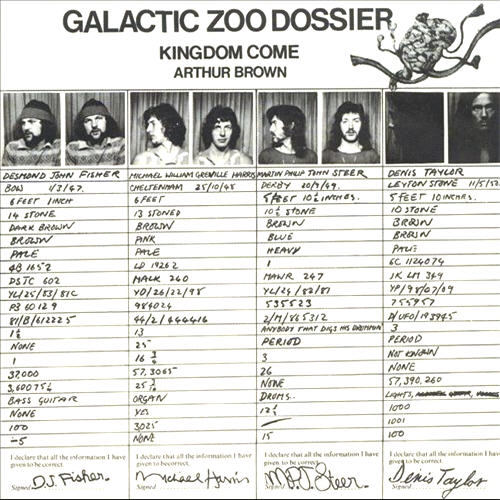 Artist :
Arthur
Brown
Album : Galactic Zoo Dossier
Genre : Psychedelic Rock
Year : 1971
Track : 17
Playtime : 01:02:39
Size : 143,47 MB
Codec : MPEG 1 Layer III / Lame 3.99 / 320 kbps
001. Internal Messenger (05:07)
002. Space Plucks (03:22)
003. Galactic Zoo (02:32)
004. Metal Monster (02:06)
005. Simple Man (03:03)
006. Night Of The Pigs (01:04)
007. Sunrise (06:53)
008. Trouble (02:07)
009. Brains (00:53)
010. Medley: Galactic Zoo (Part 2) (03:18)
011. Creep (00:46)
012. Creation (03:19)
013. Gypsy Escape (07:36)
014. No Time (06:20)
015. Metal Monster (Alternate Version) (01:47)
016. Space Plucks Dem Bones (05:50)
017. Sunise (Alternate Version) (06:28)
Arthur
Brown /Vocals
Julian Brown /VCS 3 Synthesizer, Vocals
Phil Curtis /Bass
Andy Dalby /Guitar, Vocals
Desmond Fisher /Bass
Desmond John Fisher /Bass
Michael Harris /Keyboards, Organ
Martin Steer /Drums
********************
REVIEW
by Richie Unterberger
After
Arthur
Brown briefly ascended to stardom via the Crazy World of
Arthur
Brown's only album, it was a long three-year gap until the release of the next LP bearing his lead vocals, Kingdom Come's Galactic Zoo Dossier. (Although the material on Brown's Strangelands had been recorded in the interim, that record wasn't released until the late '80s.) And if not for Brown's immediately recognizable vocal histrionics, it could be the work of an entirely different artist. the Crazy World of
Arthur
Brown's exhilaratingly jazzy, madcap psychedelia had been jettisoned for far darker excursions into mordant early progressive rock. While there was still a carnivalesque classical-jazz-rock organ base to the arrangements, guitar also took a prominent role, and the melodies were far gloomier and more obtuse. No more obtuse, however, than the lyrics, with maddeningly obscure journeys into both inner and outer philosophical space (as titles like "Internal Messenger," "Brains," "Galactic Zoo," and "Space Plucks" made evident). Rather like a creeped-out hangover bridging the late psychedelic era with the early progressive one, it's impressive in its uncompromising ambition. But its lack of melodic bluesy riffs and unrelentingly demanding themes (and sometimes downright dissonant tunes) must have alienated a good chunk of Crazy World of
Arthur
Brown fans. Speaking of maddening, by the way, there's no information in the nicely illustrated booklet about the bonus tracks, which include alternate versions of "Metal Monster," "Sunrise," and "Space Plucks." The last of these, retitled "Space Plucks Dem Bones," is an uncharacteristically (in this company, anyway) soothing cosmic meditation with a comic busked interlude leading into a manic R&B-organ jazz jam, and might be the best thing on the disc.
********************
BIOGRAPHY
by Rovi
This UK band was formed in 1971 by the eccentric
Arthur
Brown (b.
Arthur
Wilton-Brown, 24 June 1944, Whitby, Yorkshire, England), a vocalist who had achieved momentary commercial fame three years earlier with his memorable single, "Fire". This new venture was completed by Andrew Dalby (b. Gainsborough, England; guitar), Julian Paul Brown (b. Liverpool, England; synthesizer), Michael Harris (keyboards), Desmond Fisher (bass) and Martin Steer (drums), a line-up immortalized in the film Glastonbury Fayre. Their debut album, Galactic Zoo Dossier, was a radical, experimental set, and featured an extended version of "Space Plucks", a piece the singer had written for his previous band with organist Vincent Crane. This high standard was sadly not maintained on its follow-up, Kingdom Come, which relied on contemporary progressive styles and featured new bass player Phil Shutt. Harris and Steer were dropped from the band for Journey, on which Brown, Dalby and Shutt were joined by keyboardist Victor Peraino and a drum machine. Kingdom Come broke up completely when their founder embarked on an erratic solo career.
********************
BIOGRAPHY/AMG
Richie Unterberger
One of the most electrifying one-shot artists of the '60s, British singer
Arthur
Brown briefly set the charts alight in 1968, as well as thrilling audiences with his theatrical performances, which saw him wearing helmets of fire and outlandish costumes. His debut album was surely one of the most left-field commercial successes of the late '60s, if not of rock history. In addition to topping the British charts (and reaching number two in the U.S.) with his brilliantly demonic single "Fire," the self-proclaimed god of hellfire actually scored a Top Ten LP with his 1968 debut. Unveiling Brown's demented, fire-obsessed lyrical visions and swooping, theatrical vocals, it showcased his band's manic, agitated psychedelic sound, which was anchored by incendiary drumming, Pete Townshend's production, and an organist who could be best described as Jimmy Smith on acid. Brown's original band broke up in early 1969; in the early '70s he released several albums with Kingdom Come, which saw him pursuing a maddeningly obscure and less exciting brand of art rock. He recorded off and on after, with an additional flash of fame springing from his role as a priest in the film Tommy.
http://www78.zippyshare.com/v/nYhEcPNh/file.html