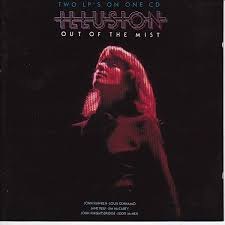 Most of the members of this English progressive band were originally in Renaissance from 1969 to 1970 until their record company forced them to move on for whatever reason. Lead singer Jane Relf was replaced to the present day by Annie Haslam.

Both Jane and her brother Keith eventually created this band Illusion ( not to be confused with their second and final Renaissance album entitled "Illusion" , which is also the name of their second album ). Unfortunately before they could record, Keith Relf was electrocuted from a freakish guitar accident in 1976, and was replaced by John Knightsbridge.

The music is fine but by 1979 the group found that progressive rock was no longer in style, since punk rock and new wave were the rage at the time.

They reunited in 2001 with a new name : Renaissance Illusion to record a fourth and last album
"Through The Fire", a CD with all original material.
Artist :
Illusion
Album : Out Of The Mist
Genre : Progressive-Rock
Year : 1977
Songs : 7
Playtime : 00:36:32
Size : 393,11 MB
Codec : Apple Lossless audio / M4A (Apple MPEG-4 audio) / 1468 kbps
003. Beautiful Country (04:31)
007. Candles Are Burning (07:14)
005. Everywhere You Go (03:22)
006. Face Of Yesterday (05:48)
001. Isadora (07:07)
002. Roads To Freedom (03:58)
004. Solo Flight (04:29)