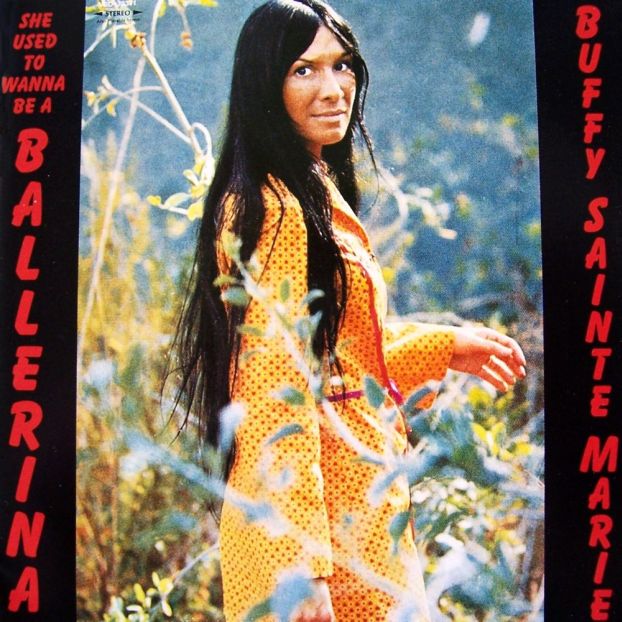 Artist:
Buffy
Sainte
-Marie
Location: Canada
Album: She Used To Wanna Be A Ballerina
Released: 1971
Genre: Folk, Folk-Rock
Duration: 35:00
Format: MP3 CBR 320
Archive Size: 81 MB (3% recovery)
Buffy
Sainte
-Marie (
Buffy
Sainte
-Marie, real name Beverly
Sainte
-Marie) - Canadian folk singer and songwriter, Grammy Award-winning, international reputation which brought the song Soldier Blue, as well as political activity and anti-war performances in the late 60s - early 70-ies. In 1998,
Buffy
Sainte
-Marie received a Lifetime Achievement Award from the Canadian National Aboriginal Achievement Foundation and became the winner of the Order of Canada (Order of Canada). A year later name of the star was placed into the Canadian Walk of Fame (Canadian Walk of Fame). Because people Cree - Eskimo tribe in North America. The territory of the tribe stretches from the Rockies to the Atlantic Ocean and includes the US and Canada, which is the most numerous indigenous people. By the way, Shania Twain (Shania Twain) - the most famous and successful country music singer - also from this tribe.
Sainte
-Marie - that's the name of her foster parents. Her first husband was Imu Piapot - the leader of the Cree people (then it was still a lot of men of different nationalities). This - the seventh album of the singer. Vocals - English. Soldier Blue - a song from the movie of the same name reached # 7 in the UK Singles Chart. Besides music
Buffy
still draws, he writes books, in films.
:
01. Rollin 'Mill Man (Gerry Goffin, Russ Titelman) - 2:14
02. Smack Water Jack (Gerry Goffin, Carole King) - 3:16
03. Sweet September Morning (
Buffy
Sainte
-Marie) - 2:48
04. She Used To Wanna Be A Ballerina (
Buffy
Sainte
-Marie) - 2:13
05. Bells (Leonard Cohen) - 4:33
06. Helpless (Neil Young) - 3:07
07. Moratorium (
Buffy
Sainte
-Marie) - 4:14
08. The Surfer (
Buffy
Sainte
-Marie, Ariel Gonzales, Carlos Pardeiro) - 2:34
09. Song Of The French Partisan (Anna Marly, Hy Zaret) - 3:10
10. Soldier Blue (
Buffy
Sainte
-Marie) - 3:16
11. Now You've Been Gone For A Long Time (
Buffy
Sainte
-Marie) - 2:50
-
Buffy
Sainte
-Marie - guitar, vocals
- Merry Clayton - backing vocals
- Ry Cooder, Jesse Ed Davis, Neil Young - guitar
- Gayle LaVant - harp
- Jack Nitzsche - piano, arranger, producer