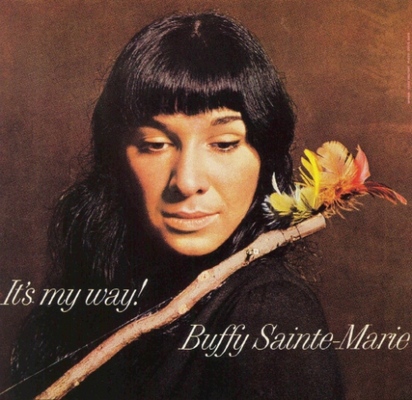 The few biographical sketches about Buffy found discrepancies concerning the pureblood its origin and even reported that she only half Indian. But even in this case, it still bleeds Cree tribe. It is known that she was adopted daughter from couples, a descendant of the Micmac tribe, which then moved to the city Neypl, Maine, USA, and moved to Buffy. Obviously, they instilled in her a love of music and, as she began to sing and play piano with four years.
https://en.wikipedia.org/wiki/Buffy_Sainte-Marie
Artist : Buffy Sainte-Marie
Album : It's My Way!
Genre : Contemporary Folk, Country, Protest Songs, Singer/Songwriter
Year : 1964
Songs : 13
Playtime : 00:40:36
Size : 94,12 MB
Codec : MPEG 1 Layer III / Lame 3.99 / 320 kbps
001. Now that the Buffalo's Gone (02:51)
002. The Old Man's Lament (04:02)
003. Ananias (02:40)
004. Mayoo Sto Hoon (01:25)
005. Cod'ine (05:07)
006. Cripple Creek (01:50)
007. The Universal Soldier (02:20)
008. Babe in Arms (02:35)
009. He Lived Alone in Town (04:42)
010. You're Gonna Need Somebody on Your Bond (02:50)
011. The Incest Song (04:19)
012. Eyes of Amber (02:21)
013. It's My Way (03:33)