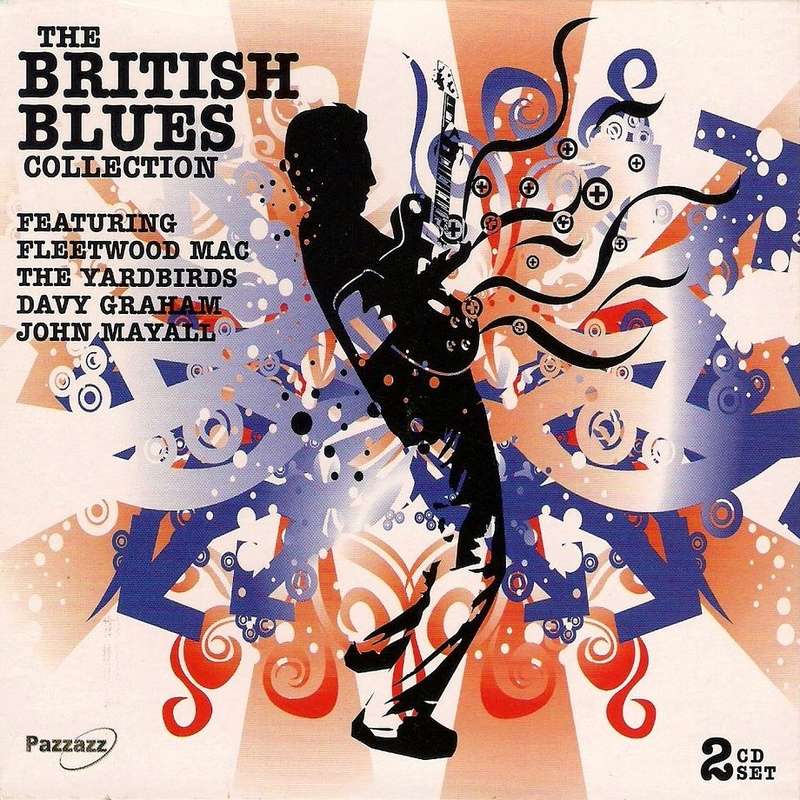 Disc 1
01. The Animals – Boom Boom
(Hooker) ©1964 Tristan Music Ltd
02. The Yardbirds – Good Morning Little School Girl
(Williamson) ©1964 Georgia Music Corp
03. Jeremy Spencer – Who's Knockin'
(Spencer) ©1968 Concorde International Management
04. Humble Pie – Wrist Job
(Marriott) ©1969 EMI United Partnership Ltd
05. Davy Graham – When Did Ton Leave Heaven?
(Graham) ©1964 Copyright Control
06. Chris Farlowe – Mo ? ???"
(Timmons/Hendricks) ©1967 Key Music Ltd
07. Eric Clapton & Jimmy Page – Draggin' My Tail
(Clapton/Page) ©1968 EMI United Partnership Ltd
08. John Mayall & The Blnesbreakers – On Top Of The World
(Mayall) ©1968 Complete Music Ltd
09. Rod Stewart – Bright Lights Big City (
Reed) ©1976 Tristan Music Ltd
10. T.S. McPhee – Yon Don't Love Me
(McDaniel) ©1968 Jewel Music Publishing Co Ltd
11. Brian Anger And The Trinity – Tiger
(Auger/Stutton)®1969 Pall Mall Music Ltd
12. Graham Bond Organisation – Stormy Monday
(Walker) ©1971 Burlington Music Co Ltd
13. Les Fleur De Lys – So Come On
(Huxley/Perry/Shoshan/Romons) ©1966 Universal Music Publishing Limited
14. Eric Clapton – West Coast Idea
(Clapton/Page) ©1968 EMI United Partnership Ltd
15. Jimmy Page & The Allstars – Down In The Boots
(Page) ©1968 EMI United Partnership Ltd
Disc 2
01. Fleetwood Mac – Man Of The World
(Green) ©1969 Krngstreet Media Publishing Ltd
02. The Golden Apples Of The Sun – Chocolate Rolls, Tea And Monopoly
(Oldham) ©1965 Abkco Music Ltd/Onward Music Ltd/Westminster Music Ltd
03. Humble Pie – Cold Lady
(Shirley) ©1969 EMI United Partnership Ltd
04. Graham Bond Organisation – Wade In The Water
(Trad/Arr Group/Getty) ©1965 Peermusic (UK) Ltd
05. John Mayall's & The Bluesbreakers – I'm Your Witch. Doctor
(Mayall) ©1965 Complete Music Ltd
06. The Yardbirds -1 Wish You Would
(Arnold) ©1964 Tristan Music Ltd
07. Davy Graham – Blues Raga
(Graham) ©1964 Copyright Control
08. Mick Softley – She's My Girl
(Eden) ©1965 Pied Piper Music Co Ltd
09. Rod Stewart – Little Miss Understood
(D'Abo)®1968 EMI United Partnership Ltd
10. Savoy Brown's Blues Band – Cold Blooded Woman
(Chatman) ©1968 Bug Music Ltd (GB)
11. T.S. McPhee – When You Got A Good Friend
(Johnson/Arr McPhee) ©1968 Getaway Music Ltd
12. Eric Clapton & Jimmy Page – Freightloader
(Clapton/Page) ©1968 EMI United Partnership Ltd
13. Chris Farlowe – Handbags And Gladrags
(D'Abo) ©1967 EMI United Partnership Ltd
14. Spencer Davis R&B Quartet – Dimples
(Hooker/Bracken) ©1964 Tristan Music Ltd
15. Cyril Davis & His Rhythm & Bines All Stars – Someday Baby
(Estes/Nixon) ©1968 Universal/MCA Music Limited



British blues is a form of music derived from American blues that originated in the late 1950s and which reached its height of mainstream popularity in the 1960s, when it developed a distinctive and influential style dominated by electric guitar and made international stars of several proponents of the genre including The Rolling Stones, Eric Clapton, Fleetwood Mac and Led Zeppelin. A number of these moved into mainstream rock music and as a result British blues helped to form many of the sub-genres of rock. Since then direct interest in the blues in Britain has declined, but many of the key performers have returned to it in recent years, new acts have emerged and there have been a renewed interest in the genre.

American blues became known in Britain from the 1930s onwards through a number of routes, including records brought to Britain, particularly by African-American GIs stationed there in the Second World War and Cold War, merchant seamen visiting ports such as London, Liverpool, Newcastle on Tyne and Belfast, and through a trickle of (illegal) imports. Blues music was relatively well known to British Jazz musicians and fans, particularly in the works of figures like female singers Ma Rainey and Bessie Smith and the blues influenced Boogie Woogie of Jelly Roll Morton and Fats Waller. From 1955 major British record labels HMV and EMI, the latter, particularly through their subsidiary Decca Records, began to distribute American jazz and increasingly blues records to what was an emerging market. Many encountered blues for the first time through the skiffle craze of the second half of the 1950s, particularly the songs of Leadbelly covered by acts like Lonnie Donegan. As skiffle began to decline in the late 1950s, and British Rock and Roll began to dominate the charts, a number of skiffle musicians moved towards playing purely blues music.

Among these were guitarist and blues harpist Cyril Davies, who ran the London Skiffle Club at the Roundhouse public house in London's Soho and guitarist Alexis Korner, both of whom worked for jazz band leader Chris Barber, playing in the R&B segment he introduced to his show. The club served as a focal point for British skiffle acts and Barber was responsible for bringing over American folk and blues performers, who found they were much better known and paid in Europe than America. The first major artist was Big Bill Broonzy, who visited England in the mid-1950s, but who, rather than his electric Chicago blues, played a folk blues set to fit in with British expectations of American blues as a form of folk music. In 1957 Davies and Korner decided that their central interest was the blues and closed the skiffle club, reopening a month later as The London Blues and Barrelhouse Club. To this point British blues was acoustically played emulating Delta blues and country blues styles and often part of the emerging second British folk revival. Critical in changing this was the visit of Muddy Waters in 1958, who initially shocked British audiences by playing amplified electric blues, but who was soon playing to ecstatic crowds and rave reviews. Davies and Korner, having already split with Barber, now plugged in and began to play high powered electric blues that became the model for the sub-genre, forming the band Blues Incorporated.

Blues Incorporated became something of a clearing house for British blues musicians in the later 1950s and early 1960s, with many joining, or sitting in on sessions. These included future Rolling Stones, Keith Richards, Mick Jagger, Charlie Watts and Brian Jones; as well as Cream founders Jack Bruce and Ginger Baker; beside Graham Bond and Long John Baldry. Blues Incorporated were given a residency at the Marquee Club and it was from there that in 1962 they took the name of the first British Blues album, R&B from the Marquee for Decca, but split before its release. The culmination of this first movement of blues came with John Mayall, who moved to London in the early 1960s, eventually forming the Bluesbreakers, whose members at various times included, Jack Bruce, Aynsley Dunbar and Mick Taylor.