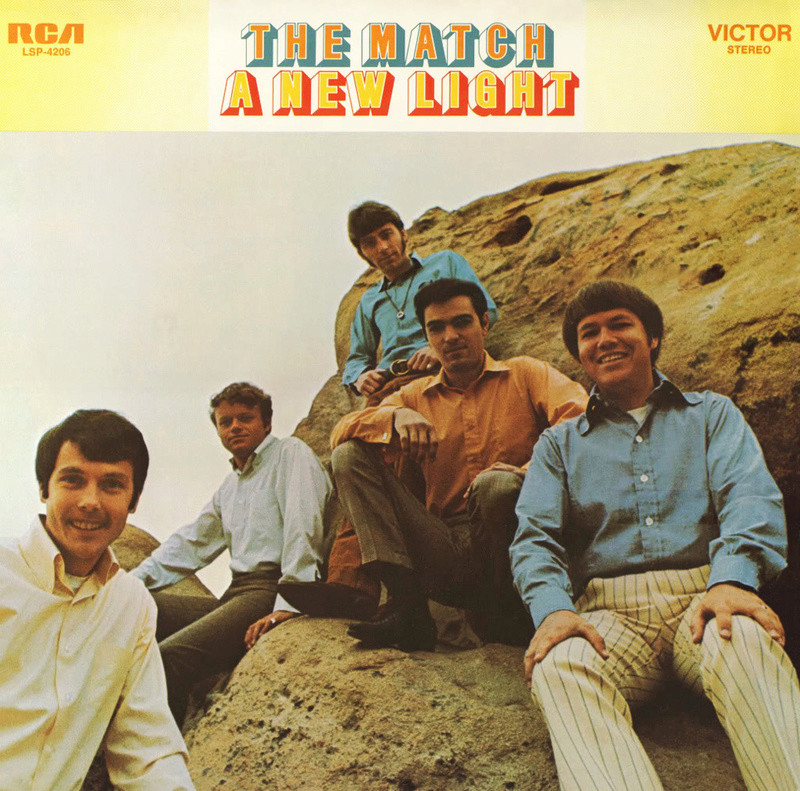 The
Match
– A New Light
Label:RCA Victor– LSP-4206
Format:Vinyl, LP
Country:US
Released:1969
Genre:Rock, Pop
Style:Pop Rock, Vocal
Tracklist
A1 Don't Take Your Time 2:42
A2 A Time For Us (Love Theme From "Romeo And Juliet") 3:48
A3 Free And Easy 2:55
A4 Through Spray Colored Glasses 3:10
A5 Mornin' I'll Be Movin' On 3:22
B1 Where Do I Go? 3:02
B2 Alfie 3:22
B3 Need You 2:58
B4 Scarborough Fair/Canticle 4:11
B5 Love Years Coming 2:50
B6 The Heart Is A Lonely Hunter (If You Needed Me) 2:11
Recorded At – RCA's Music Center Of The World
Credits
Arranged By [Vocal] – Pat Valentino (2)
Artwork [Cover Art] – Tom Wilkes (2)
Conductor – Jules Chaikin
Producer, Arranged By – Jack Pleis
Sleeve Notes – Henry Mancini
The
Match
- A New Light (LP RCA Victor ?– LSP-4206, 1969).
Producao e arranjos por Jack Pleis.
Este album de 1969 do grupo The
Match
, reune uma serie de cancoes de musica Pop Psych. O album e fantastico, com vozes muito harmoniosas, apoiadas por alguns belos arranjos de cordas.
O grupo era composto por quatro vocalistas e um baterista, (os sobrenomes sao desconhecidos, com excepcao de um): Richard (voz baixo), Bjorn (baritono), Marshall (alto tenor), Pat Valentino (segundo tenor) e Tony (baterista).
O LP apresenta uma miscelanea de temas de filmes e de musicais, assim como cancoes pop da epoca, incluindo "A Time For Us" de "Romeo And Juliet", "Where Do I Go", do musical "Hair", um grande arranjo vocal de " Alfie "do filme com o mesmo nome, e "Through Sprayed Colored Glasses", retirado de "Follow Me" e que foi originalmente interpretado por Dino, Desi and Billy, na respectiva banda sonora, gravada em LP. O album apresenta tambem uma versao fantastica do tema de Simon and Garfunkel, "Scarborough Fair / Canticle".
https://www.discogs.com/artist/2822522-The-Match-2