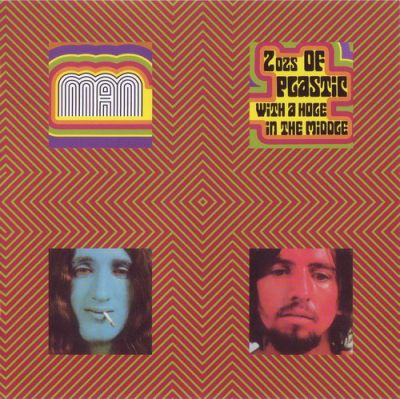 Man were one of the most promising rock bands to come out of Wales in the early '70s. Along
with
Brinsley Schwarz, they helped establish the core of the pub rock sound, but they played louder and also had
a
progressive component to their work that separated them from many of their rivals. The group originated as
a
Four Seasons-cum-Beach Boys vocal outfit, based in Swansea, Wales, called the Bystanders, who began experimenting
with
a
tougher, more progressive sound on-stage. They were encouraged to pursue this direction, and Man were formed -- Micky Jones (lead guitar, vocals), Deke Leonard (guitar, vocals), Clive John (guitar, keyboards, vocals), Ray Williams (bass), and Jeff Jones (drums).
Their first release, Revelation, issued in 1969 on Pye, was
a
concept album that yielded
a
successful European single, "Erotica," which contained the sound of an orgasm and thus failed to chart in England. Their second album, 2 Ozs. of
Plastic
with
a
Hole
in the Middle, showed
a
slightly new direction for the band,
with
a
nearly live-in-the-studio sound and more creative interplay between the guitars, that some critics compared to early Quicksilver Messenger Service and other West Coast bands. Deke Leonard, in particular, whose playing was heavily influenced by Mick Green of the Pirates, became the star of the group by popular acclaim. When their contract
with
Pye Records ended in 1969, the group signed
with
United Artists-Liberty,
with
a
new rhythm section consisting of Terry Williams on drums and vocals and Martin Ace playing bass. Their third album, Man, was
a
critical success, and their follow-up, 1971's Do You Like It Here, Are You Settling In, yielded several popular concert numbers. In February 1972, the group appeared at the Greasy Truckers' Ball,
a
benefit concert held in London that was taped for posterity, alongside Brinsley Schwarz and Hawkwind. Their performance was so impressive that United Artists chief Andrew Lauder (who was also responsible for helping the post-Roy Loney Flamin' Groovies get their sound together) encouraged them to do
a
full live album. The result was Live at the Padget Rooms, Penarth, the band's breakthrough album, even though it was originally released in
a
limited-edition pressing of 8,000 copies. The album became
a
much sought-after collector's item in England, and suddenly the group had the attention of most of the record-buying public.
Unfortunately, it was at after the release of that album that Deke Leonard decided to exit the lineup to pursue
a
solo career, which he launched
with
the successful album Iceberg. Man were making
a
reputation for themselves and their next album, Be Good to Yourself at Least Once
a
Day, yielded some good songs (including "Bananas"). At that point, Pye released
a
retrospective of their first two albums, while the group's current lineup began shifting again -- Deke Leonard was back for Rhinos, Winos and Lunatics, and Slow Motion led to the group's first American tour. They followed this up
with
their first serious misstep,
a
hookup
with
Quicksilver's John Cippolina as producer for what proved to be
a
disappointing album, Maximum Darkness. The Welsh Connection, released by MCA in 1976, marked the end of the original group's history, although the band did get one more album out, entitled All's Well That Ends Well.
01. Prelude - The Storm
02. It Is As It Must Be
03. Spunk Box
04. My Name Is Jesus Smith
05. Parchment And Candles
06. Brother Arnold S Red And White Striped Tent
07. My Name Is Jesus Smith (Alt.)
08.
A
Sad Song (Grasshopper)
09. Walkin The Dogma (Spunk Box Demo)
~Enjoy~